Hiranuma AQ-300 Coulometric Karl Fisher, Titrator
Hiranuma Model AQ-300 is the compact and easy to use Coulometric Karl Fisher Titrator for the determination of water content in solid, liquid and gas.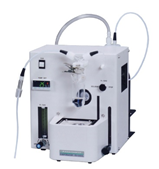 Download
Sale area:
Hong Kong SAR
Singapore
Thailand
Features:
1. Compact design and easy to use operation
2. Internal storage of 4 sets of method and parameters
3. RS-232 cable for exporting data to PC for analysis
4. Standard accessory includes training video and data analysis software "AQUANET"
5. Simple electrolytic cell for easy to use and routine maintenance
6. Provision to connect to evaporator for different type of samples
Application:
1. Food industry: Edible oil, Butter, Margarine, Almond oil, Coffee, Vinegar, Formulated milk, Tobacco, Syrup and etc.
2. Pharmaceutical industry: Allowable water determination in various drugs at different national standards
3. Cosmetics industry: Cleanser, Hand cream, Day cream, Cream, Toothpaste, Lipstick, Mascara, Sunscreen, Hair gel and etc.
4. Plastic and Polymer: PE, PA, PP, PVC, Resin, Epoxy and etc.
5. Petroleum industry: Liquid and gaseous hydrocarbons, Organic solvent, Catalysts, Lubricating oil, Transformer oil, Metal oxides, Inorganic salts and etc.