Calibration Filter Set for UV-VIS Spectrophotometer
Calibration Filter Set for UV-VIS Spectrophotometer
Download
Sale area:
Hong Kong SAR
China
Singapore
Thailand
Calibration Filter Set for UV-VIS Spectrophotometer
The set 666.000 consists of neutral density glass filters for testing the absorption values and a holmium oxide glass filter for testing the wavelength accuracy. The glass filters are mounted in precision frames of aluminium. They are designed such that they fit into the holders for standard cuvettes with a 10 mm light path with which the spectrophotometer is equipped. The set is delivered together with an empty filter frame as reference in a sturdy box.
For purposes of identification, the set number is engraved on each filter frame. The measured values of the absorption and the wavelengths are shown for each filter in the calibration certificate supplied. For purposes of working in the laboratory, the measurement values are also shown on the inside of the lid of the box.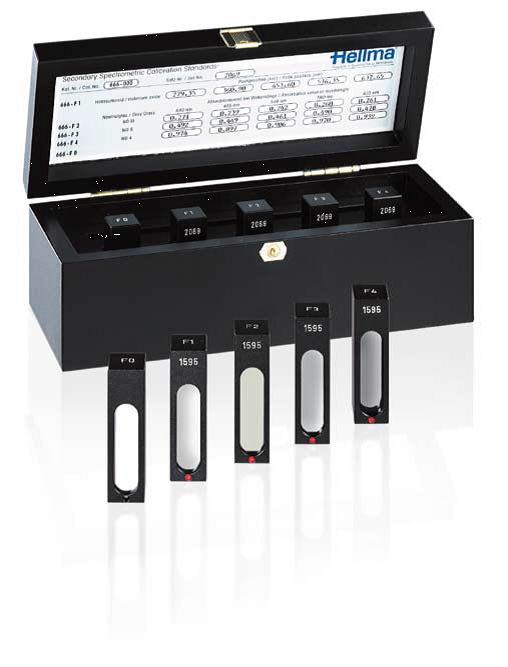 Catalogue number

666.000

Designation

Solid filter set for testing the photometric accuracy and the wavelength accuracy

Consisting of

666-F1 Holmium oxide glass filter

666-F2 Neutral density glass filter NG 11

666-F3 Neutral density glass filter NG 5

666-F4 Neutral density glass filter NG 4

666-F0 Filter holder, empty as reference

Peakposition

666-F1 279.3 nm, 360.8 nm, 453.4 nm, 536.4 nm, 637.5 nm

Absorption value certified at

666-F2 440 nm, 465 nm, 546.1 nm, 590 nm, 635 nm

666-F3 440 nm, 465 nm, 546.1 nm, 590 nm, 635 nm

666-F4 440 nm, 465 nm, 546.1 nm, 590 nm, 635 nm