Kurabo QuickGene-Mini8L Nucleic Acid Isolation System
Kurabo QuickGene-Mini8L Nucleic Acid Isolation System
Compact device for large volume isolation
Download
Sale area:
Hong Kong SAR
China
Singapore
Thailand
Kurabo QuickGene-Mini8L is a compact system requiring no centrifugation in the isolation process, giving less strain to samples and enabling rapid nucleic acid isolation.
DNA can be easily isolated from various large scale samples including whole blood, tissue, plants and others.
Compact design
- The small, lightweight QuickGene-Mini8L takes up minimal space on the lab bench and even in the clean bench.
-
No need to move the samples from the lab bench without centrifugation throughout the whole isolation process.
-
QuickGene-Mini8L is suitable for virus or contaminants sample because it can be used in a safety cabinet.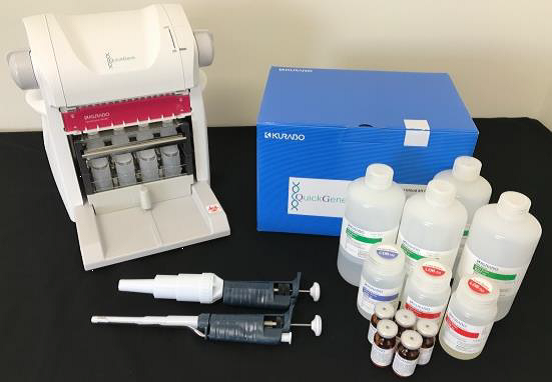 Revolutionary porous membrane
-
The QuickGene-Mini8L uses patented porous membrane less than 100 μm thick.
-
Depending on the outstanding adsorption/ desorption performances of the membrane, high-purity nucleic acid can be easily obtained in high yield at low pressure.
-
The ultra thin membrane enables nucleic acid isolation in shorter time than when compared to glass fiber membranes.
DNA isolation from large volume samples

-
QuickGene-Mini8L can be used for DNA isolation from large volume samples (ex. 2 ml of whole blood, 100 mg of mouse liver) and allows to get high-yield of DNA at a single run.
-
Using the optional parts, the device can also be applied for high-throughput nucleic acid isolation (max. 48 samples per run) from small volume samples (ex. 200 μl of whole blood, 5 mg of mouse liver) using multi-channel pipettes.
Application:
Research, Academic, Education, Pharmaceutical, Life Science, Whole blood