Kurabo QuickGene-Mini480 Nucleic Acid Isolation System
Kurabo QuickGene-Mini480 Nucleic Acid Isolation System

Personal nucleic acid isolation device, one for each person. Maximum throughput up to 48 samples!
Download
Sale area:
Hong Kong SAR
China
Singapore
Thailand
Kurabo QuickGene Mini480 is a high-throughput compact system requiring no centrifugation in the isolation process, giving less strain to samples and enabling rapid nucleic acid isolation. DNA/RNA can be easily isolated from various samples including whole blood/tissue/cells/plants/virus and others.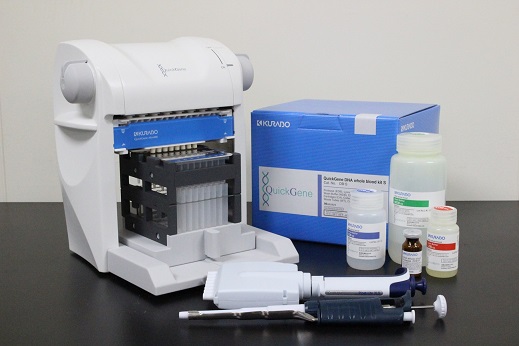 Compact Design
- The small, lightweight QuickGene-Mini480 takes up minimal space on the lab bench and is easy to carry.
- No need to move the samples from the lab bench without centrifugation throughout the whole isolation process.
Revolutionary Porous Membrane
- The QuickGene-Mini480 uses patented porous membrane only 80 m thick.
- Depending on the outstanding adsorpfion/desorption performances of the membrane, high-purity nucleic acid can be easily obtained in high yield at low pressure.
- The ultra thin membrane enables nucleic acid isolation in shorter time than when compared to glass fiber membranes.
High Purity, High Yield
- QuickGene-Mini480 can stably isolate nucleic acid in high yield.
- The isolated DNA/RNA can be directly applied to PCR, RT-PCR, Next Generation Sequencing Analysis, etc.
Easy & Rapid Processing
- The operation is simple. Just set the sample and rotate the grey pressurizing Rotary Switch on both side of the device.
- No centrifugation process, no need to remove and transfer the liquid after sample pre-treatment to save valuable time.
- Process 1 to 48 samples per run. And enhance usability by using Multichannel Pipettes. (NEW)


Product Video
Application:
Research, Academic, Education, Pharmaceutical, Life Science