Froilabo TRUST Ultra Low Temperature Freezer -86°C
Froilabo TRUST Ultra Low Temperature Freezer -86°C
With 50 years of experience in ULT Freezers and result of many months of research and development, Froilabo's ULT freezers are designed and developed in France and manufactured in Europe.
Download
Sale area:
Hong Kong SAR
China
Singapore
Thailand
SE Asia
India
S. Asia
Oceania
E. Asia
Froilabo TRUST Ultra Low Temperature Freezer -86°C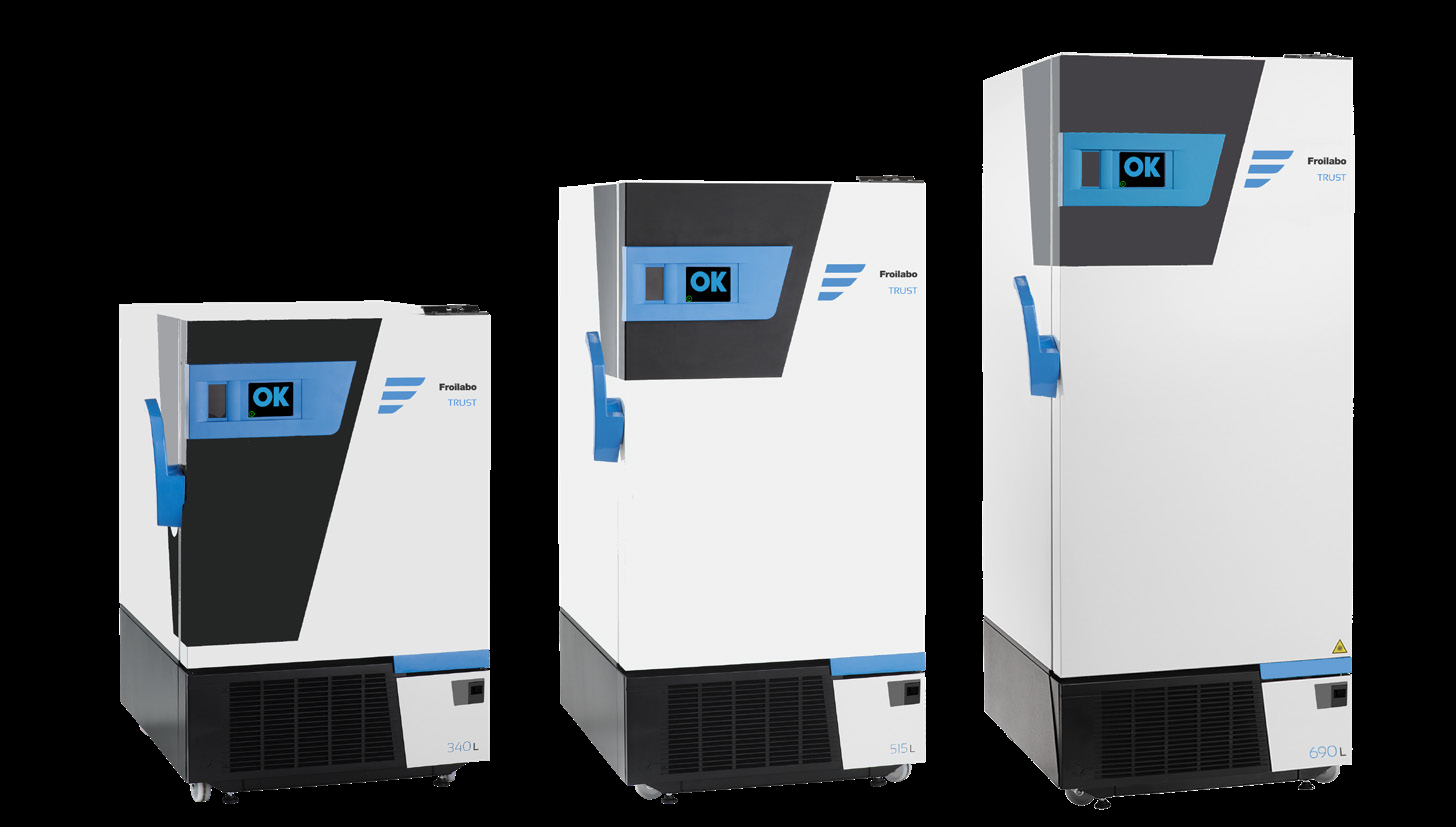 Features:

User-driven development
The design of Froilabo freezers focused on five main objectives
User-driven conception
Innovative et ergonomic.
An intuitive and clear interface
Thanks to its eye level display, the Trust range informs you continuously about the proper functioning of the freezer and any alarms.
Cooling power and temperature uniformity
Optimized performances for all your needs.
Security, at the heart of our concerns
Increased and complete security for all your samples.
Preventive and easier maintenance
Optimal conservation means servicing your device.


Technical data:

| | | | | | |
| --- | --- | --- | --- | --- | --- |
| Volume | Capacity | Compartments | External dimensions (H x P x L in mm) | Inner dimensions (H x P x L in mm) | Net weight (kg) |
| 340L | 24,000 | 2 | 1280 x 970 x 875 | 716 x 752 x 630 | 223 |
| 515L | 36,000 | 3 | 1640 x 970 x 875 | 1076 x 752 x 630 | 267 |
| 690L | 48,000 | 4 | 1990 x 970 x 875 | 1436 x 752 x 630 | 330 |
Power supply: 230V/50Hz, 110V/50Hz, 110V/60Hz






For more information, please visit
https://www.froilabo.com/en/products/ultra-low-temperature-freezers-86degc/trust-86degc