Millrock Technology MAGNUM Pilot Freeze Dryers
The MAGNUM Pilot Freeze Dryer standard system design provides a highly reliable platform for your freeze drying needs.
Download
Sale area:
Hong Kong
China
Singapore
The MAGNUM offers up to 20 sq ft (1.858 sq M) of lyophilization shelf area with a condensing capacity of 30 liters. The standard controls are PC/PLC based, offering data collection and self-testing features. The easy-to-use software provides automatic freeze drying, defrost, system and leak rate testing. Data can be printed either numerically or graphically.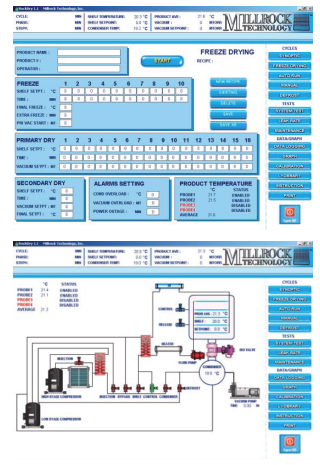 Features:
· CONTROL SYSTEM
· SHELF SYSTEM
· CONDENSER
· REFRIGERATION
· VACUUM
· Sanitary style fittings on all sensor and vacuum ports
· Built-in validation port


Application:
· Tissue Bank
· Small Scale Production
· Diagnostics
· Well Plates
· Vials
· Bulk Applications / Trays