Millrock Technology STELLAR Laboratory Freeze Dryer
An economical freeze dryer that combines many of the features of larger lyophilizers in a small floor model console system.
Download
Sale area:
Hong Kong
China
Singapore
The STELLAR Laboratory Freeze Dryer fits a wide array of freeze drying applications. From investigational laboratory work to small diagnostics production. Configured to meet your requirements. A shelf temperature choice of -45C or -70C to +65C coupled with a condenser that cools to -53C or -85C ensures that you can configure a system to meet your demanding needs. The STELLAR? Lyophilizer provides more performance and capacity than any other freeze dryer in its class.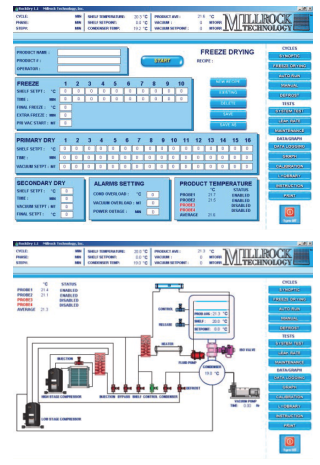 Features:
· CONTROL SYSTEM
· SHELF SYSTEM
· CONDENSER
· REFRIGERATION
· VACUUM
· Sanitary style fittings on all sensor and vacuum ports
· Built-in validation port – sanitary fitting


Application:
· Diagnostics
· Small Production
· Investigational Lab
· R&D
· Vials
· Bulk
· Well Plates