Micro Ultracentrifuge CS-FNX
State-of-the-Art Technology
The world's greatest RCF: 1,050,000 x g
With the high-efficiency vacuum driving unit, acceleration to the maximum rotation speed of 150,000 rpm can be attained in about 100 seconds.
Download
Sale area:
Hong Kong
Singapore
China
SE Asia
India
S. Asia
Oceania
Europe
Features:
* The Unique Floor-Standing Micro Ultracentrifuge
* Visual Balancing by non-contact imbalance sensor
* Quick Start-Up
It takes just 8 seconds (minimum) to be ready for operation system.
* Powerful Vacuum Pump
Reaching time to high-vacuum status is reduced to half by optimized control of the oil diffusion pump. (comparing with our previous model.)"
* Quiet Operating Sound "45 dBA"
* Easy Operation with Touch-Sensitive LCD
* Color touch-sensitive LCD and GUI "
* Easy Timer Setting and Actual Run Timer
* himac original RTC(real-time control) function makes timer setting easy . "
* Data Communication
USB port is equipped as standard specification. (CS150FNX Only )"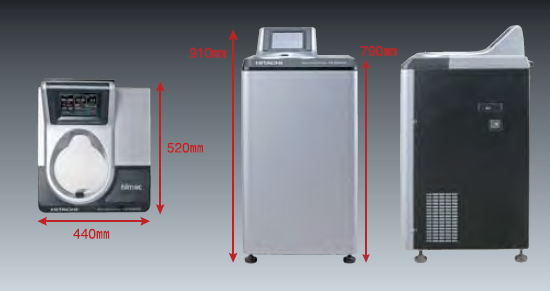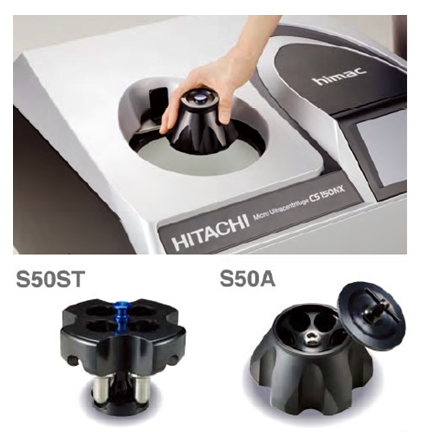 Specifications:

Max. speed (rpm)/max. RCF (x g): (S140AT rotor)
CS150FNX: 150,000 rpm/1,050,000 xg
CS120FNX: 120,000 rpm/771,000 xg"
Maximum Capacity:
30ml x 6 tubes (S50A rotor)"
Dimension(WxDxH): 440x520x910mm
Weight: 105kg
Temp Set: 0 to 40C
Application
:
Separate and purify protein, lipoprotein, cell organelle, DNA and RNA, also carbon nano tubes and other nano-sized particles, more efficiently than ever