Goojung Evatros T.C.S. Total sample Concentration System
Goojung Evatros T.C.S. Total sample Concentration System
Your Absolute Lab Solution!
Download
Goojung Evatros T.C.S. Total sample Concentration System
Evatros T.C.S? is total sample concentration system for sample preparation featuring an evaporator, hood function and a gas generator. Goojung Engineering Co, Ltd. has designed user-friendly Evatros T.C.S? based on extensive research of user behavior patterns, and efficiency of sample concentration process and safety has been enhanced.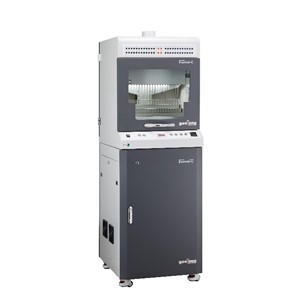 - One integrated system featuring an evaporator, hood function and a gas generator
- Up to 48 sample preparation
- Independent gas supply control for each nozzle
- Up/Down button adjusting nozzle position
- 5-way gas blowing nozzle drying the condensed solvent on the inner wall of test tubes
- Aluminum test tube block with heating function (Ambient ~ 80℃)
- Easy observation of the progress of sample concentration through slit of the test tube block
- Production of custom-made test tube block covering a variety of tube shapes or volumes
- Easily replaceable test tube block depending on the sizes of test tubes
- Convenient arrangement of test tubes in a test tube block on Pull & Push shelf
- Timer: automatic gas shut-off with going off alarm when timer setting time is finished
- Built-in hood function venting out toxic gas and unpleasant smell
- (Option 1) Acid-proof option recommendable when using acid solvent
- (Option 2) UV blocking option for samples sensitive to UV
Video Link: