EST Analytical EVOLUTION Purge and Trap Concentrator
EST Analytical EVOLUTION Purge and Trap Concentrator
The most reliable VOC concentrator on the market today
Download
Sale area:
Hong Kong SAR
China
Singapore
Thailand
SE Asia
India
S. Asia
Oceania
E. Asia
EST Analytical EVOLUTION Purge and Trap Concentrator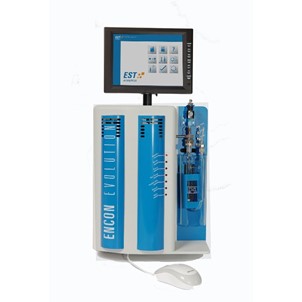 - Superior moisture control (patented feature)
- Low carryover (patented feature)
- Easy maintenance & diagnostics
- Best in-class service & support
The Evolution is designed to remove water during the purge process. By using an 8-port valve instead of a 6-port valve, the sample during desorption goes directly to the GC.
The eliminator is EST Analytical's patented sparge heater that bakes the glassware of the Evolution Concentrator between sample runs.



50 ppb EPA Method 8260. Front end gases showing improved resolution are highlighted.
Video Link:
Highly integrated to Scion GC and GCMS