ePrep Sample Preparation Workstation
ePrep Sample Preparation Workstation is a Robotic Sample Preparation for the Chromatography Laboratory
Easy, precise and affordable workflow automation
Download
ePrep Sample Preparation Workstation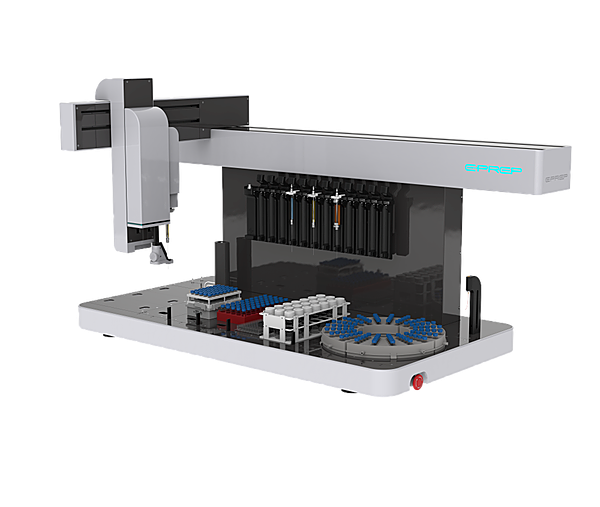 Highly Flexible and Adaptable
The ePrep Sample Preparation Workstation excels at automation of sample preparation for small-to-medium batch sizes typically used in the chromatography laboratory.
Rapid programming and modular configuration allows the ePrep to be setup and operational within minutes, even for the most complex Workflows. It takes around 15 minutes to develop and validate a Workflow from scratch, and far less if the Workflow has been previously developed and saved.
The ePrep workstation can perform a wide range of sample preparation processes to maximise output accuracy and efficiency.
Its independent operation improves flexibility and effectiveness in a laboratory setting. Samples can be prepared into Autosampler Racks, away from analytical instrumentation. Once the preparation is complete the rack can simply be transferred to the instrument, vastly reducing the complexity of sample preparation process.
Ease of Use
Use of ePrep's propriety touch screen software is designed to be independent of user skill and features Workflow validation checking, error feedback, and tool or rack identification scanning.
By using predefined Tasks, vial coordinates and parameters, the ePrep achieves simplicity in operation. Workflows are created and executed in just minutes using 'drag-and-drop' in the Workflow editor.
Complete Sample Preparation Workflow
ePrep can automate most Chromatography Laboratory sample preparation tasks. By using analytical syringes rather than pipettes, ePrep can precisely control micro volumes and flowrate at high pressure, which allows separation, filtering, and membrane tasks to be used in a workflow sequence.
Precision, Accuracy and Validity
ePrep allows samples to be prepared the same way every time eliminating errors, saving time and avoiding repeats. Optimised Workflows can be saved and recalled for consistent method reproducibility. With typical accuracy and reproducibility of ≤ 0.3%, the improved data quality produced using the ePrep eliminates the need for duplicate and triplicate samples.
In addition, the ePrep's predefined wash and purge routines minimise the chance of cross contamination.
Affordable Laboratory Automation
Quick to program, robust construction, flexibility, accuracy and user-friendly operation sit at the core of effective and efficient modern sample preparation. By achieving all these features in a single instrument the ePrep Work Station is the essential instrument for laboratory sample preparation.

Product Video:

Application: Food, Environmental, Pesticide, Biochemistry, QA/QC