CityU researchers invents accurate rapid COVID-19 antibody level test
Time:2022-7-28 Source:This station Author: admin
CityU researchers invents accurate rapid COVID-19 antibody level test
Vaccines have become the most important weapon in the fight against the COVID-19 pandemic, but antibody levels after vaccination decay quickly over time. Therefore, an accurate and affordable antibody rapid test is urgently needed to adjust the revaccination strategy. A research team led by City University of Hong Kong (CityU) recently invented an accurate rapid-testing device that can quantify and display the antibody level as a length of a visual bar, like a mercury thermometer, in as few as 20 minutes, enabling convenient mass screening or individual monitoring of immune protection against COVID-19.
The antibody level is a potent correlate of immune protection against virus infection, but it varies, depending on the vaccine type, and can decay rapidly. In the post-vaccine era, with the rise of the Omicron variants, it is critical to monitor antibody levels in a fast, cost-effective way, which can help provide an alert about the necessity for revaccination. However, existing antibody testing methods are either only for positive/negative results (like rapid antigen tests) or require equipment in professional laboratories or hospitals for quantification, which is expensive, time-consuming and impractical for routine tests.
A research team led by Dr Chen Ting-Hsuan, Associate Professor in the Department of Biomedical Engineering at CityU, recently developed a solution by inventing a new rapid antibody test that shows the level of antibodies readable by the naked eye. The findings were published in Science Advances under the title "Microfluidic particle dam for direct visualization of SARS-CoV-2 antibody levels in COVID-19 vaccinees".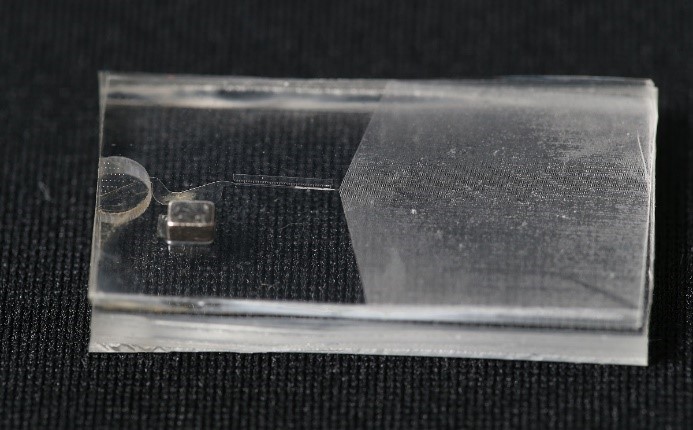 A microfluidic device that can quantify and display the COVID-19 antibody level as a length of a visual bar, developed by Dr Chen Ting-Hsuan's research team at City University of Hong Kong.
Photo credit: City University of Hong Kong


Back