Company News – Techcomp Instrument Limited Granted Top Ten After-Sales Service Award 2019 in China
Time:2020-6-11 Source:Techcomp BJ Marketing Author: William Yip
Techcomp Instrument Limited received the Top Ten After-Sales Service Award 2019 in China held by instrument.com.cn. Techcomp values the importance of the after-sales service to the customers. The award recognized the effort we spent in the past years that we provide the excellent service. We hope to proceed to the next level of the service.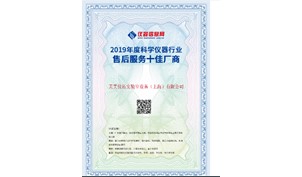 https://www.instrument.com.cn/news/20200610/540877.shtml
Instrument.com.cn is the largest portal website for scientific instrument in China.
Back